MUTOH XpertJet 1682SR Eco-Solvent Printer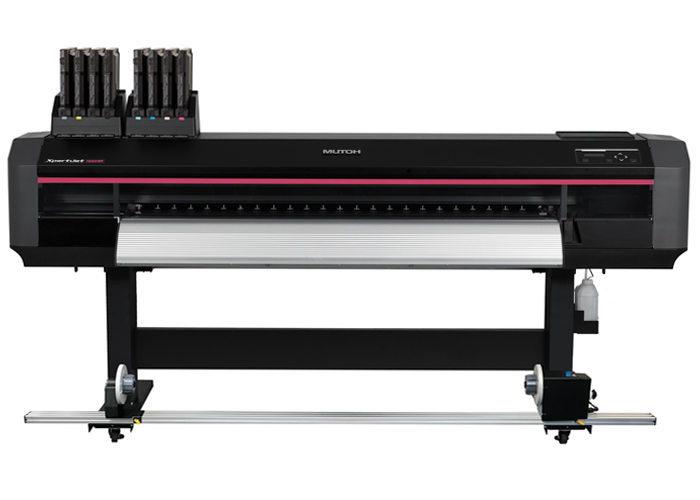 The "XpertJet 1682SR 64" Eco-Solvent Printer
The XJ1682SR from Mutoh has a staggered dualhead design that provides ultra-fast print speeds. It's capable of producing smooth gradations while delivering high-quality printing even with reduced resolution thanks to the 7-color ink configuration (CMYK Lc Lm Lk). The newly designed platform is packed with features like automatic bi-directional alignments, a user-friendly touch panel, added LED lighting, and an upgraded media feed flange that allows operators to easily and quickly load media and exchange multiple rolls.
These features are designed to increase user-friendly operation and maintenance while continuing to offer high production, high-quality output. The "XPJ" 1682SR is paired with Mutoh's "MS41" Eco-Solvent ink, which offers users a larger color gamut, outstanding durability, and improved dot gain.
Features:
High Precision Aluminum Rail Mechanism - for high quality and stable printing
Automatic Bi-Directional alignment with built-in colour sensor- save time by automatically calibrating printer alignments, increasing ease of use
Multi-stage pressurizing mechanism - enhances media feed stability for various media
Internal LED lighting - illuminates work area to easily monitor print status
LED warning indicators – for each ink cartridge slot, showing remaining ink levels
New LED touch panel - user friendly touch panel which only displays keys necessary for desired functions
MUTOH Status Monitor (MSM) - checks the printer's operation status in real time. MSM mobile provides monitoring with a smartphone or tablet
New media feed flange - allows operators easy media loading. When the flanges have been mounted in advance, it becomes easy and quick exchanges multiple rolls.