MUTOH ValueJet 626UF UV Printer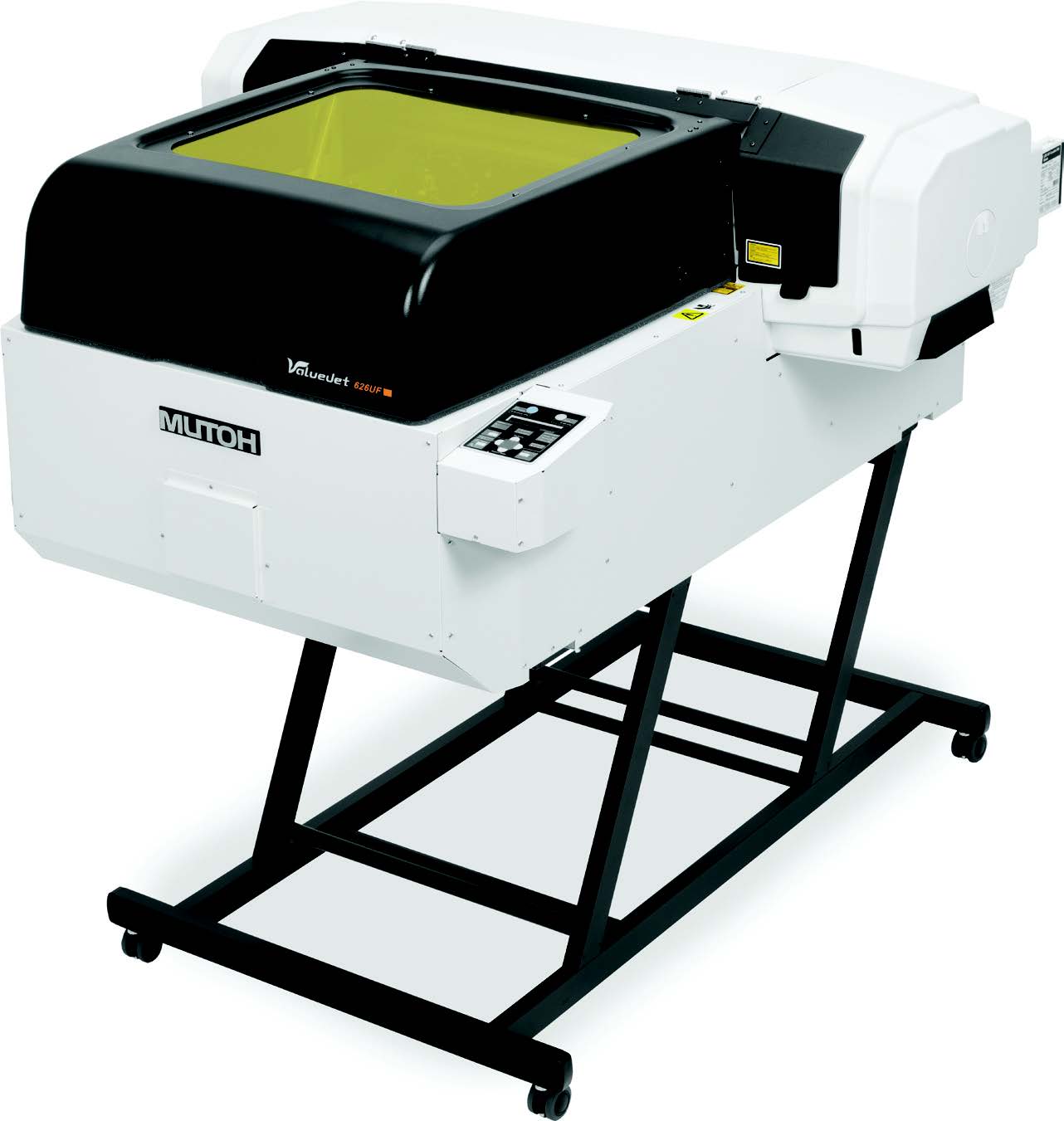 The "ValueJet 626UF" UV Printer
Mutoh's ValueJet 626UF desktop UV-LED prints directly to objects up to 150mm high, such as sign media, plastics, acrylic, wood, aluminium, leather, vinyl and more, making it one of the most versatile printers available.
With a 483 x 594mm vacuum bed - bigger than A2, the VJ-626UF has the largest size bed, by area, in its class. That means you can fit more rigid signs, more phone cases, more or pens onto the VJ-626UF than the competitor machines and therefore print more per hour.
Mutoh's genuine LED-UV ink includes LUH1, for rigid originals or those with considerable bend requirements, such as self adhesive vinyls; or Mutoh's US11 flexible ink for printing onto very flexible originals or medias with some stretch characteristics.
The VJ-626UF can be configured for CMYK for added speed, or CMYK plus white ink and varnish. Use white ink behind colour when printing onto dark objects - or for making back-lit illuminated signs; use the varnish for an all-over gloss effect or for spot gloss. You can even layer-print the inks in one print pass.
The VJ-626UF is great for making directional signage and printing three dimensional objects and it excels at printing on, up to, 150mm high promotional goods. These include pens, phone and tablet cases, trophies & awards and more.
Mutoh's genuine UV inks have the strongest adhesion in the industry. Printing directly to acrylic and Corflute, for example, doesn't require messy and expensive adhesion promoter. Mutoh inks are highly scratch resistant on these materials. But don't take our word for it. Come see for yourself!
The ValueJet 626UF is also available with a rotary unit. This allows for printing around the circumference of bottles and other cylindrical objects in one, continuous pass.
Mutoh's Smart Printing technologies such as Intelligent Interweave (I2) print technique, virtually eliminates banding. The ValueJet 626UF is the ideal choice for any print shop looking to add direct-to-object printing to their portfolio or kiosks looking to offer specialty printed products, such as promotional goods.
Unlike the competitor UV printers, there's no need for expensive add-on air filtration units. Mutoh's genuine LED-UV inks are low odor and they are completely VOC-free (no Volatile Organic Compounds) and they do not contain any hazardous air pollutants (non-HAP), making them suitable for use in sensitive environments.
Features:
Latest generation 8-channel variable dot print head
483 x 594mm table, offering the largest print area, per square metre, in its class
Print direct to three-dimensional objects, up to 150mm high
Motorised table height adjustment
Print direct around cylindrical objects, with the optional rotary unit
Mutoh genuine LED-UV inks are available in hard or flexible/stretch types
Choose a CMYK configuration or CMYK plus white ink and varnish*
Automatic media thickness detection
Industry leading UV adhesion - no messy adhesion promoters required
Energy efficient LED-UV lamp is cool burning, perfect for heat sensitive materials
Open RIP software architecture, supported by all major RIP brands
*The four- or six-colour ink configuration must be chosen at install time. Once installed, the ink configuration cannot be changed.