MUTOH ValueJet 426UF UV Printer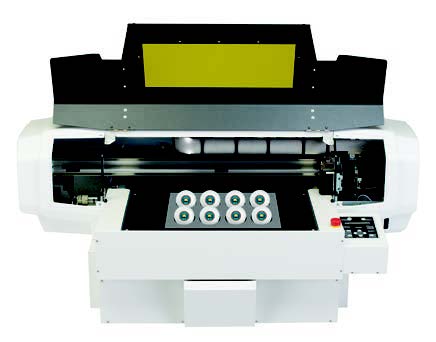 The "ValueJet 426UF" UV Printer
Mutoh's ValueJet 426UF tabletop UV-LED printer is the perfect fit for any print shop looking to expand its applications and enter the world of UV printing.
The VJ 426UF prints on a variety of materials, including 3D objects, up to 70mm thick, with Mutoh's 100% solid UV-LED ink.
Apply white ink behind colour when printing onto dark objects - or for making backlit illuminated signs; use the varnish for an all-over gloss effect or for spot gloss. You can even multi-layer the inks for embossed -like effects.
Print direct to a wide range of promotional items including pens, phone and tablet cases, trophies & awards and more.
With up to six color capability, including white and varnish ink, and Smart Printing technologies such as Intelligent Interweave (I2) print technique, virtually eliminating banding, the ValueJet 426UF is the ideal choice for any print shop looking to add promotional printing to their portfolio or kiosks looking to offer specialty printed products.
No need for expensive add-on air filtration units. Mutoh UV inks are low odour, completely VOC-free and do not contain any hazardous air pollutants (non-HAP).
Features:
The multi-purpose VJ-426UF printer will produce ultra-sharp, high quality output
The ValueJet VJ-426UF is a compact flatbed 6-colour LED-UV printer with integrated vacuum table
Print direct to three-dimensional objects, up to 70mm high
Motorised table height adjustment
Mutoh genuine LED-UV inks are available in hard or flexible/stretch types
Choose a CMYK configuration or CMYK plus white ink and varnish*
*The four- or six-colour ink configuration must be chosen at install time. Once installed, the ink configuration cannot be changed.