MUTOH ValueJet 1628X Eco-Solvent Printer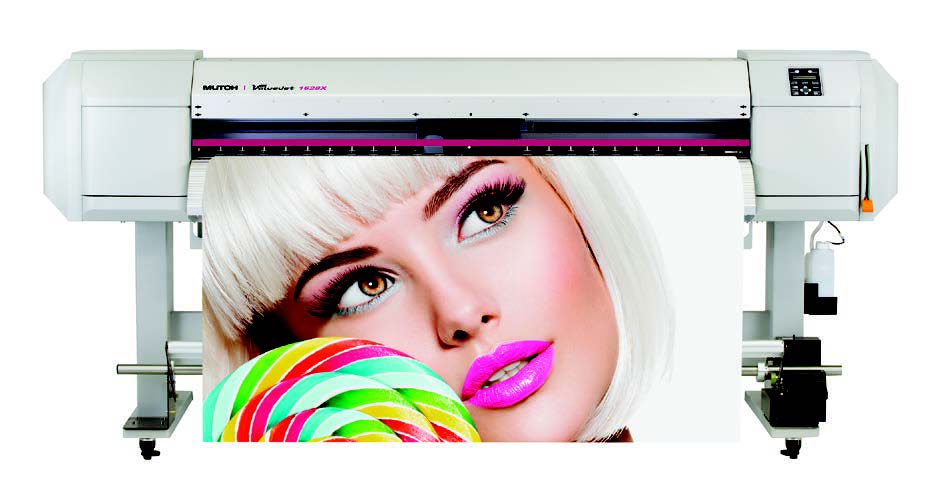 The "XpertJet 1628X" Eco-Solvent Printer
Mutoh's New ValueJet 1628X is an eight colour printer that uses Mutoh's proven ECO-Ultra inkset and offers white and metallic inks in a 64" (1625mm) configuration.
The VJ-1628X is a performance printer with all the same smart features as the VJ-1624 printer but it includes Mutoh's exclusive Drop Master print automation technique which assures the highest dot placement accuracy and eliminates the need for regular adjustments.
With three ink configurations offering up to eight colors including White and Metallic inks, the possibilities for creative output are endless. Print high quality 1440 dpi output for photographic output or create custom wraps, banners, indoor and outdoor signs, Point-of-Sale displays and trade show graphics. With metallic ink you can draw attention to design details for a brighter, more eye catching image or choose one of Mutoh's 447 Metallic Library colours to add pearlescent effects to your designs.
Features:
64 inch (1625 mm) printer
Three ink configuration choices using up to eight colours including White and Metallic* Eco-Ultra ink
Use either 220 or 440ml cartridges or 1 litre ink bags with the optional ink bag adapter
Mutoh Metallic Color Library gives you 474 metallic blended colours from your design app, or create your own
Print banners and posters as well as point of sale and photographic images
Automatic sheet off function for easy handling of finished jobs
Rear media feed lever for easy load and unload of media
Choose either the optional 30kg media take-up or 80kg Heavy Duty media Take-up kit
Add the optional SpectroVue spectrophotometer for media calibration and colour profiling
*Note: Metallic ink not recommended for outdoor use